Monark Price Guide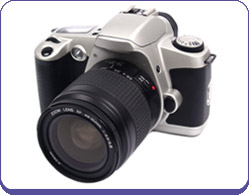 The Monark On-Line Price Guide is a unique photographic resource, unlike anything else in the world. It lists the current price new in the UK (if still available) as well as the second-hand values, for thousands of items of photographic equipment, including still cameras and lenses, digital cameras and camcorders as well as classic and collectable equipment.
However the guide does not stop there as not only does it give the second-hand price, but also an indication of the 'trade-in' value for every item, making it indispensable to its subscribers, many of who buy and sell photographic equipment. The Guide also covers a large selection of classic and collectable cameras, concentrating mainly on the cameras most likely to be encountered.
In addition, ALL sections have a 'saleability factor' added. This Saleability Factor (SF) is based on a scale from 1 (Basic quality and/or very common) to 5 (Rare or very specialised item) and gives you an idea as to how quickly an item should sell. Obviously we cannot guarantee an instant sale for an item, but this information is useful when considering a purchase, or when pricing an item to sell.
If you have a camera or other photographic item to sell, we have many hundreds of contacts throughout the UK photo trade and may be able to get you more than you think. From a single camera, to whole collections, we may already have a customer waiting for your cameras. Just send us a For Sale Email with all the relevant details for a no-obligation reply.
We also undertake independent valuations of items, or camera collections for insurance or probate purposes. Please Email Insurance Valuations for further details.